Tinker Advantage
You are probably asking yourself, "What sets Tinker apart from the rest?" The answer is simple. We provide maximum value for every dollar you spend. Our cutting-edge program design incorporates a technology based delivery platform with innovative program processes that lower program costs and boost water and energy savings. Our advanced school and teacher recruiting techniques generate demand for our program among educators. Bottom line, we are fresh, new and designed specifically for utilities like you.  Check us out by requesting a demo today.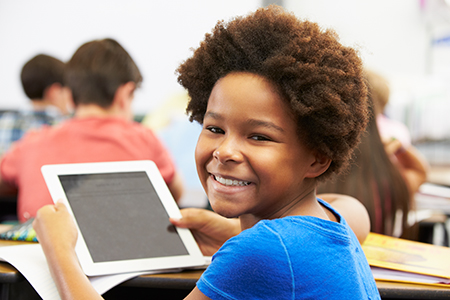 The Modern Student
The transformation of the traditional student to the modern student is well underway. As such educators have abandoned traditional teaching methods in favor of modern styles that engage the minds and aptitude of today's student. Mirroring this transition our programs incorporate contemporary teaching tools and methods that offer countless advantages over traditional utility sponsored school based education programs. Our key is the capability to effectively change the entire communication of your message from a one way group lesson into an actual one on one discussion with the modern student. Allowing us to successfully impart long-term knowledge on more students, affecting more change for the same investment.
Big Data
With modern program design comes the ability to collect big data. Our programs incorporate real-time tracking that shows end-to-end teacher, student and parent actions that are recorded and displayed in the online dashboard. Giving us a real time overview of what's happening at any point during the program.
Turnkey: Everything Under One Roof
Completing all programmatic tasks under one roof offers countless advantages. Just by removing subcontractor relationship complexities we lower program costs, reduce opportunity for errors, and eliminate unnecessary time delays. This makes program implementation smooth, quick and seriously cost-effective. Best of all, we can give you a single dedicated program manager who knows your program inside and out. We want you to be worry free knowing… we've got your back.