When most people think about our national parks, things like hiking trails, beautiful scenery, and animals in their natural habitat come to mind. While these parks are usually protected by the government, that doesn't mean they don't give back.
Many national parks across the country are also doing their part to conserve water and energy. Not only does that help to ensure the parks will be around for many years, but that the resources of our country (and the world!) will be as well.
Water Conservation
One of the biggest ongoing efforts for many national parks throughout the country is water conservation. Different parks are taking initiatives to reduce the amount of water being used on a regular basis while using natural resources whenever possible.
What's so important about this? When a national park that gets visited by hundreds (or thousands) of people each day takes steps toward saving water, it leaves a huge positive impact. It can also inspire others to do their part, too.
For example, the Golden Gate National Recreation Area in California implements several different methods to retain rainwater and conserve the water they use each day. Some of the methods used there and in other parks across the country include:
Low-flow faucets

Dual-flush toilets

Water-reduction laundry facilities

Drought-tolerant plants
Improving Energy Conservation
Just as each park uses their own tools and resources to conserve water, they do the same with energy. It's important to note that the more a park can retain natural rainwater and put it to use, the less energy will be used in transporting water, etc. That's a big improvement on its own!
But, reducing energy use is a huge issue for national parks throughout the country. Yellowstone National Park consumes the most energy of any other park in the country. But, even they recognize that's an issue, and are committed to improving energy efficiency.
One of the most impressive ways national parks are conserving energy is through the use of small renewable energy systems. As these continue to grow in popularity, we can likely expect more and more of them to be put to use throughout most parks in the country.
A Commitment to the Future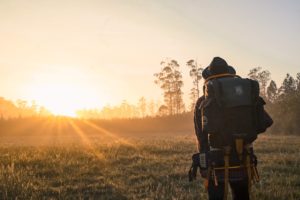 Our National Parks are strongly committed to a clean and sustainable future. They don't just practice ideas that can be used for water and energy conservation. They also are consistently coming up with new ways to reduce waste, lower the use of fossil fuels, etc.
These parks systems strongly encourage their regular visitors, tourists, donors, and even the government to assist them in their efforts to create a cleaner and more sustainable tomorrow.
If you're interested in learning more about what the national parks are doing to conserve water and energy, or if you want to learn how you can help and do your part, don't be afraid to contact the park nearest to you, or make a donation toward their conservation efforts. These parks are setting strong examples for other businesses and organizations across the country.