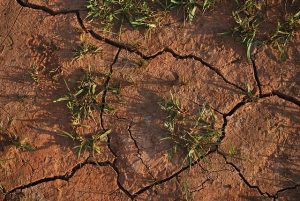 With El Niño over and little rain to show for it, California is struggling with its drought. The "Godzilla drought," as a NASA climatologist has dubbed it, has little desire to lessen. La Niña is expected to surface, but we can't be sure that she'll come as there are little signs she's ready to arrive. During La Niña, the Southwest tends to be drier and cooler than normal and this can be bad news for the already drought-stricken land. La Niña is essentially the opposite of El Niño. El Niño is the warming of water in the Pacific Ocean, leading to the storms we expected to see. La Niña is know for its dry climate; something Californians aren't hoping to see more of.
While abnormal dryness is affecting over half of the West even up into Washington and Oregon, California in particular has reached its fifth year in drought. Almost the entire state is experiencing some sort of drought. Even without La Niña, California should be preparing for more difficult times ahead. Many were hopeful for a strong El Niño, but even the best case scenario would likely not been enough.
El Niño was actually quite strong, lasting over 15 months, but the results were not as expected. In fact, if it left anything, it was questions about why Southern California saw seemingly zero effects of the storm. Experts believe that the warmer-than-normal pool of water (essentially what El Niño is) was 1,000 miles farther west than it was the last time we were hit with major storms (the 1997-1998 El Niño).
The drought became severe and expensive long ago, and while residents are doing a great job at water conservation and efficiency, things are still looking dim. Not only is agriculture seeing major revenue loss, there are residents without running water and wildfires starting to worsen as summer sets in. So far, the California Department of Forestry and Fire Protection states that twice as many fires have burned this year when compared to the first six months of 2015.
Whether El Niño was mild or not (it wasn't – the massive flooding in Texas is a result) isn't the major concern for scientists and residents alike. Now, we're looking at how much longer this drought is going to last, how much worse it's going to get and what exactly we need to do about it. Fortunately, it appears that residents are willing to take whatever efforts are needed in order to conserve water. For now, though, it seems like we're going to be doing a lot of watching, waiting and adapting.