Natural disasters can be terrifying and harrowing experiences for the people involved, in more ways than one. What we don't often think about, though, is how the aftermath of these disasters can continue to affect people. One of the major after-effects of things like earthquakes, floods, hurricanes, and tornadoes is damage to water wells. In turn, that can affect drinking water, leaving the people who need it the most in danger.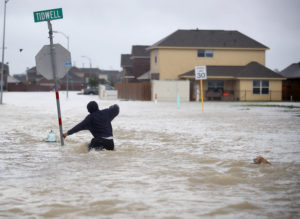 Not only can natural disasters damage wells, but they can cause even more dangerous issues. When things like flooding occur, run-off from sewers, fields, etc., can contaminate the water supply. Unfortunately, things like human waste or livestock waste can get into the supply, causing a slew of chemicals to affect the water. Depending on how quickly the clean-up process goes, it can be weeks (if not longer) before the drinking water is safe.
Should I Avoid Drinking Water After a Natural Disaster?
Obviously, no one can predict when a natural disaster is about to happen. But, it's a good idea to take whatever precautions you can. If you live in an area that is often in the path of hurricanes, for example, you should know your risk is greater. If it's possible, have a clean water supply on hand before the disaster hits.
If you're unable to prepare before some kind of disaster hits, don't panic. The best thing you can do is make sure you avoid unsafe, unclean water. This includes more than just not drinking the water. Don't use it to wash dishes, brush your teeth, or make food. Even boiling the water doesn't always get rid of certain chemicals. It can be a scary thing, knowing your drinking water is unsafe for consumption. That's why many people who face these disasters rely on aid from other areas. Bottled water that's brought into these disaster areas is often a saving grace for the people living there.
When Will the Water Be Safe?
It doesn't matter how much time has passed, wait until you get a complete confirmation from authorities before drinking or using your water again after a disaster of some kind. Public water systems are required to let you know if your water isn't safe. At the same time, they're required to let you know when it's safe again.
Even if your area's water has been deemed safe, it's a good idea to get your own external water system checked out after something like a flood or tornado. This will ensure there aren't any lingering problems and your water is completely safe to drink.
It's impossible to avoid natural disasters. They happen all over the world and most of them without much warning. It's not a bad idea to 'stock up' on water for when these disasters might occur. The important thing to realize is they can really affect an area's way of life. Most people think that the crisis is over once the cause has passed. In reality, that's usually when the problems begin.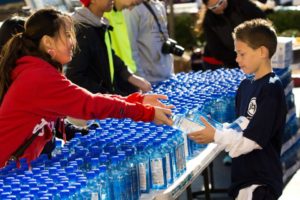 The best way to get through situations like this, or to help others to do the same is to rely on help from individual volunteers and organizations. If we all stepped up to do a bit more in times of crisis, the water situation may not seem so dire for those directly impacted.