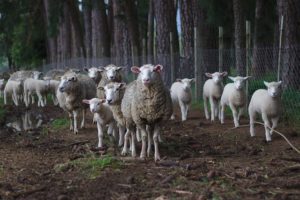 California's drought is well-known and widely covered, but things are still changing. People are learning to adapt to the ongoing issue, especially since El Niño didn't seem to bring much relief at all. The future doesn't look promising and farmers are certainly feeling the effects already, so they're turning to new technology to find solace.
Hydroponics Technology
Mario Daccarett's sheep farm, Golden Valley Farm, lies about one hour north of Fresno. There, his employees milk about 500 sheep per day to produce milk to make cheeses that are found in stores like Whole Foods. Daccarett gets about 800 pounds of milk from each sheep per year and this takes a lot of feed. A lot of feed takes a lot of water and it also takes a lot of money. So Daccarett came up with his own water saving initiative.
Daccarett has started planting sprouted barley that he mixes into his regular feed. He grows it in 10 by 20 foot shipping containers with hydroponics technology and indoor grow lights. By doing this, he's using only 2% of the amount of water it would take to grow the crop outside. With a sprinkler spraying just 20 seconds of water each day to start the germination process, the farm is producing 2,400 sprouts daily. Within a week they are ready to be eaten by the sheep.
Water Conservation & Cost Reduction
Some say the cost savings isn't really worth it. The containers run about $100,000 each and the barley sprouts don't provide enough animal nutrition alone. But Daccarett claims his first two containers have paid for themselves in the first year. He's planning on buying more containers and thinks that other farmers will do the same as water conservation continues to be an issue.
For farmers with smaller plots of land, it's certainly an idea worth looking into. These containers can provide ample amounts of feed and save the farmer money in the long run. Plus, the amount of water saved is incredible. Like Daccarett, we hope to see more innovation like this in the future.