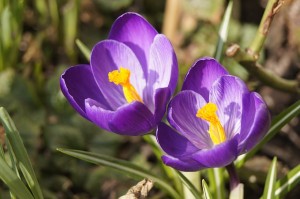 Winter is finally coming to an end and most of us can't wait for more pleasant weather. With spring cleaning on most folks' agenda, we'd like to remind you there are some fun ways to celebrate the friendlier atmosphere. There are plenty of things that need to be done that you're likely not looking forward too – such as cleaning those ceiling fans and inspecting your HVAC. But spring is a time that can also be celebrated by a little change in surroundings.
Set up a bird feeder – Birds are just as happy about spring as you are, so setting up a bird feeder to watch them is a great way to enjoy the outdoors. Depending on the type of birds you want to attract, you can buy a pre-made feeder or build your own. It's a fun project for the entire family!
Plant summer flowering bulbs – Part of the reason people love spring is because it's so beautiful. With the winter freeze melting away, you can get out into the garden to start planting bulbs that will bloom in the weeks to come. Another fun family project, you'll all get to see the beautiful results.
Get some spring decorations – You don't need to use real plants and flowers to make your home prettier, you can add any sort of decoration you want! A new doormat, colorful picture frames and brighter dining table decor will really "spring" everyone into the fresh spirit.
Repaint a room – A lot of people get a little carried away with spring cleaning, but it doesn't have to be a bad thing! Everyone needs some change every once in a while, and painting or redecorating a room can really brighten up your life.
Clean – Yes, we know this doesn't sound fun now, but getting into the spring cleaning spirit has huge rewards. Not only will things actually get clean and organized, you'll feel an enormous amount of accomplishment when you're done! It really is worth the time and effort, and there's no better time to do it than now.
Spring is an excellent time to change up your home or office, making it more comfortable and exciting. Winter has a tendency to drag people down and jumping into spring with a fresh, new surroundings. Not only will the weather be nicer outside, you'll even enjoy spending more time inside once you bring spring into your home with you.